Huntsville Curling Club Hopes to Bring New Recreational Facility to Huntsville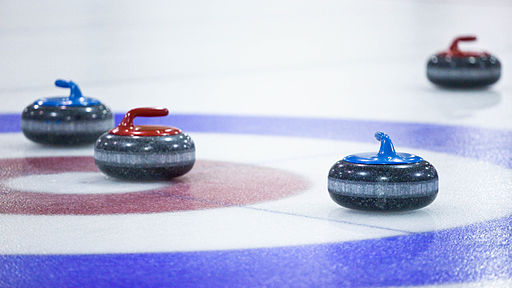 There is good news on the horizon for
curling enthusiasts
in Huntsville. According to a recent article in the
Huntsville Doppler
, the Huntsville Curling Club met with the Town of Huntsville Community Development and others about
building a new curling facility
, and more. This is great news for my wife, Sandra and I, as we are avid curlers ourselves.
The
Huntsville Curling Club
has received a
$75,000
grant
from the
Province of Ontario
for the new facility project. The next step is to come up with design and additional fundraising options. Currently, the top pick for a new recreational facility is along the south side of the McCulley-Robertson Sports Complex.
While the new facility is in the planning stages, improved storage space and updated washrooms were at the top of the list of wants noted at the meeting. The Huntsville Curling Club has indicated they want to create a new facility which will allow for
accessible curling
and a lounge large enough to
serve 100 or more
people for special events.
The key to having a new centre for curling will be to include
additional recreational facilities
, creating a true community centre. This is in line with expectations set by the Province in awarding the grant. One thing Huntsville is missing is a large gymnasium, which would allow for us to
host larger indoor sporting events
. Once the new centre is completed, Huntsville will not only be a hub for Muskoka recreation, the Town will be able to offer even more facilities and services/programs year round to residents and visitors alike.
The Town of Huntsville, Huntsville High School and other local sporting groups are all on board for a new centre. This is
our community at work to achieve a common goal
which will benefit many. We will be watching for new developments in this exciting new endeavour in Huntsville.
A good night of curling is just one way we enjoy our time in Huntsville. Helping people find the right home, cottage or condo for them is another. If you are in the market for a home, cottage or condo in Huntsville or the surrounding area, put the
care and expertise
of the
Wearing-Parrott team to work for you
. Please call us at
705-788-3535
or email at
info@WearingParrottTeam.com
today!
This information is taken from sources deemed to be reliable. The Wearing-Parrott Team does not guarantee accuracy; we recommend information be validated independently
Photo Attribution: Benson Kua [CC BY-SA 2.0 (http://creativecommons.org/licenses/by-sa/2.0)], via Wikimedia Commons