Live Life in a "Tree House" Country Home near Fox Lake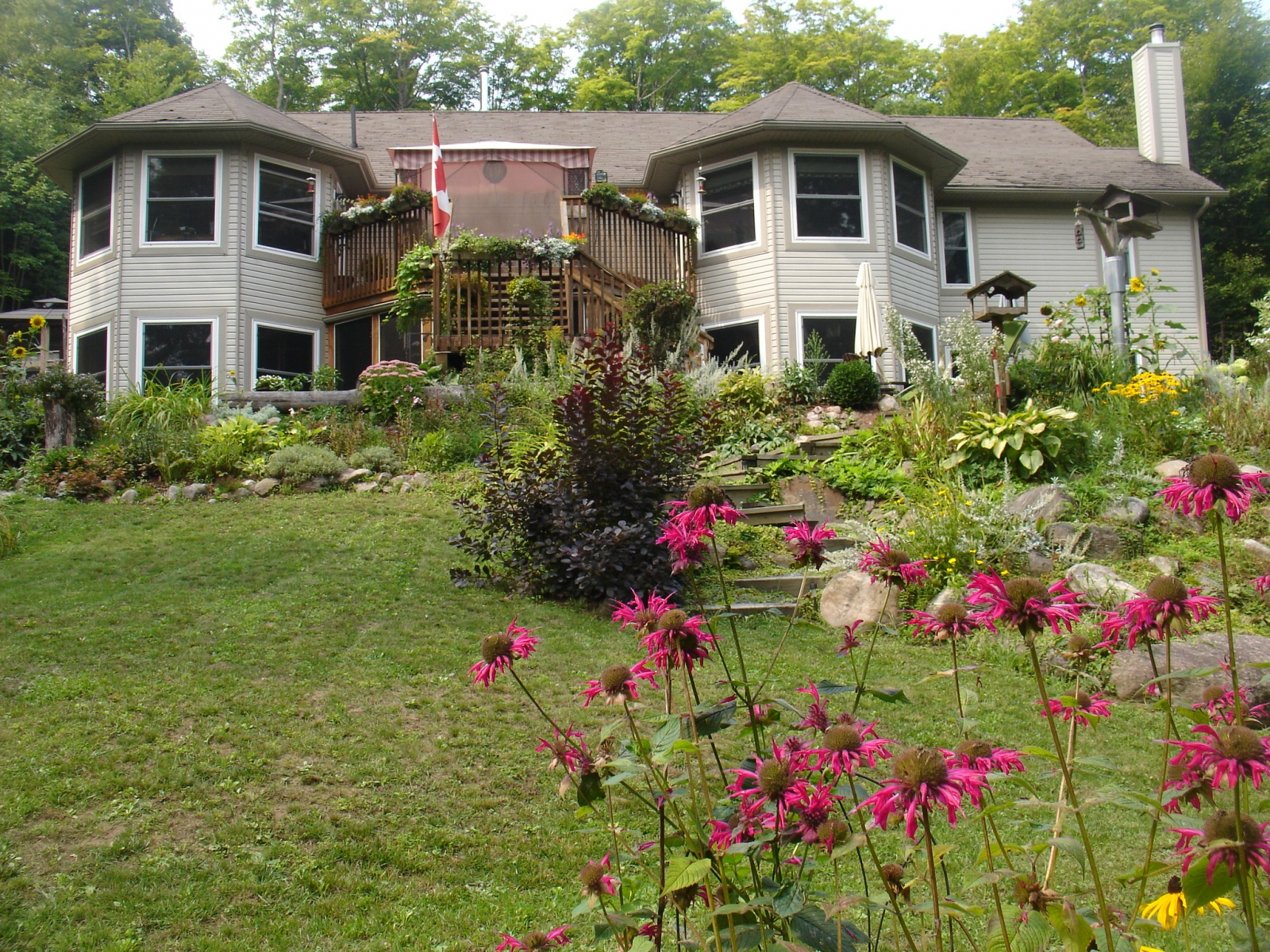 Huntsville and the surrounding Muskoka region offers people the chance to turn dreams into reality when it comes to year round living in the midst of incredible, natural beauty. The expansive lake views, extensive trails and mature wooded areas of the region can help one feel like they are living in an enchanted forest. This is especially so when one finds a fairytale home full of surprising amenities and unique architecture. The Rick Wearing & Sandra Parrott Team are thrilled to share with you some of the highlights about a recent current listing, which is sure to be a buyer's own dream come true.
The story of this property is best told by the sellers, Johny Peleman and Rachel DeSadeleer, who come originally from Belgium. Their home, located at
344 West Fox Lake Road
, was as much a fairy tale dream as their journey to Huntsville was. With a college-bound son coming to Canada in 2008, the couple decided it was time to move across the Atlantic and experience life in a new community, allowing them to also be near their son. What they got was so much more.
When asked why they chose Huntsville as their new home, they said it was truly a serendipitous moment that drew them here. They were on the road searching the area for possible properties, wondering if they would find an ideal place, when a quick stop in downtown Huntsville became a turning point in their plans. Huntsville was not on their radar before, but after seeing this charming town with its shops and community surrounded by beautiful scenery, they knew, this was where they wanted to build their new life.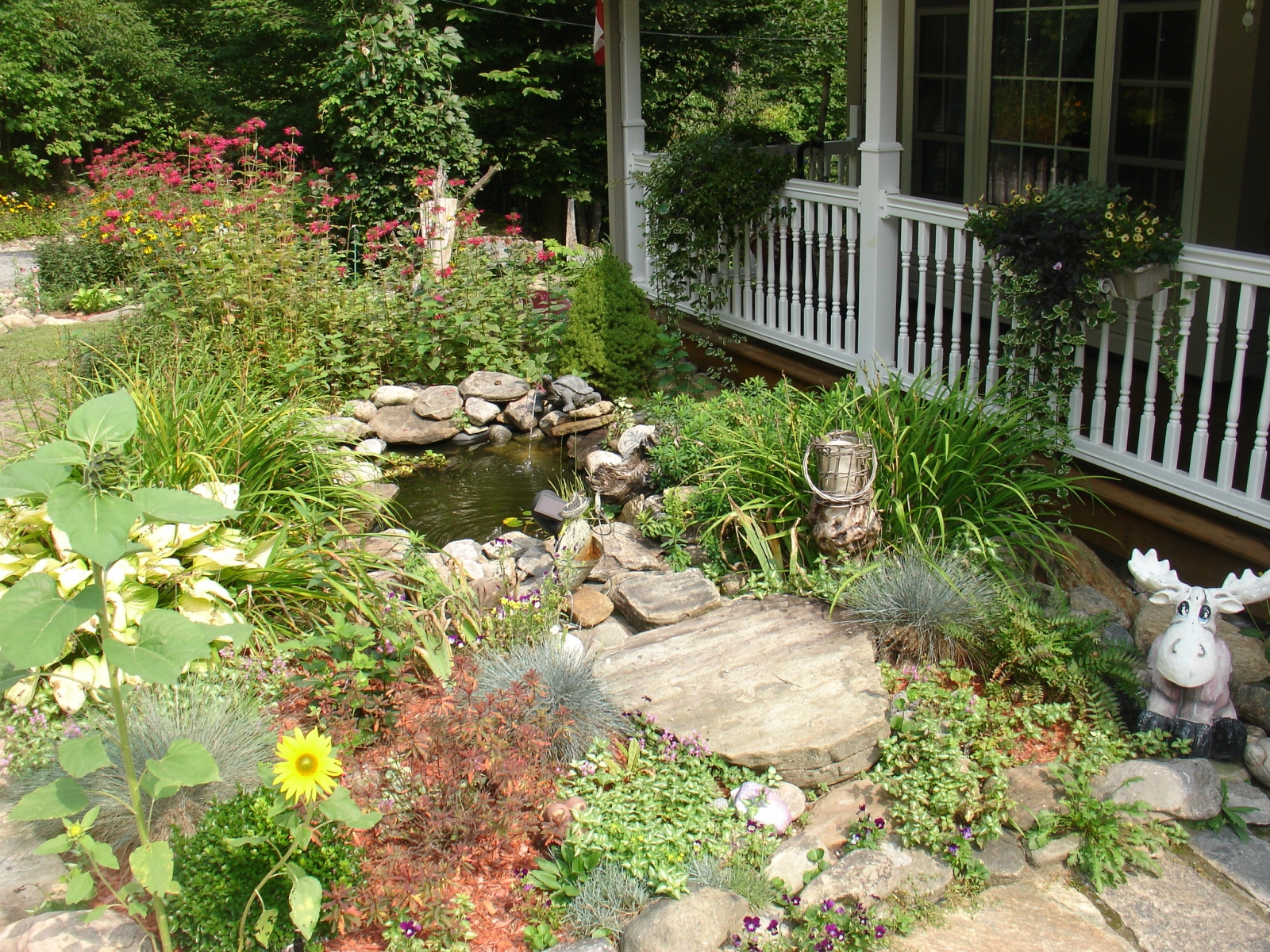 When it came to finding the right home, it was truly meant to be that they would live on West Fox Lake Road. Initially when they saw the listing for the home, they were intrigued, only to find the listing no longer available. On a return trip to continue their search during the winter of 2008, they came across the property in a realtor's brochure, before it had been posted online. Johny and Rachel were in luck; the house was available after all! A quick call arranged for their first visit to the house, and they knew right away this was the place for them.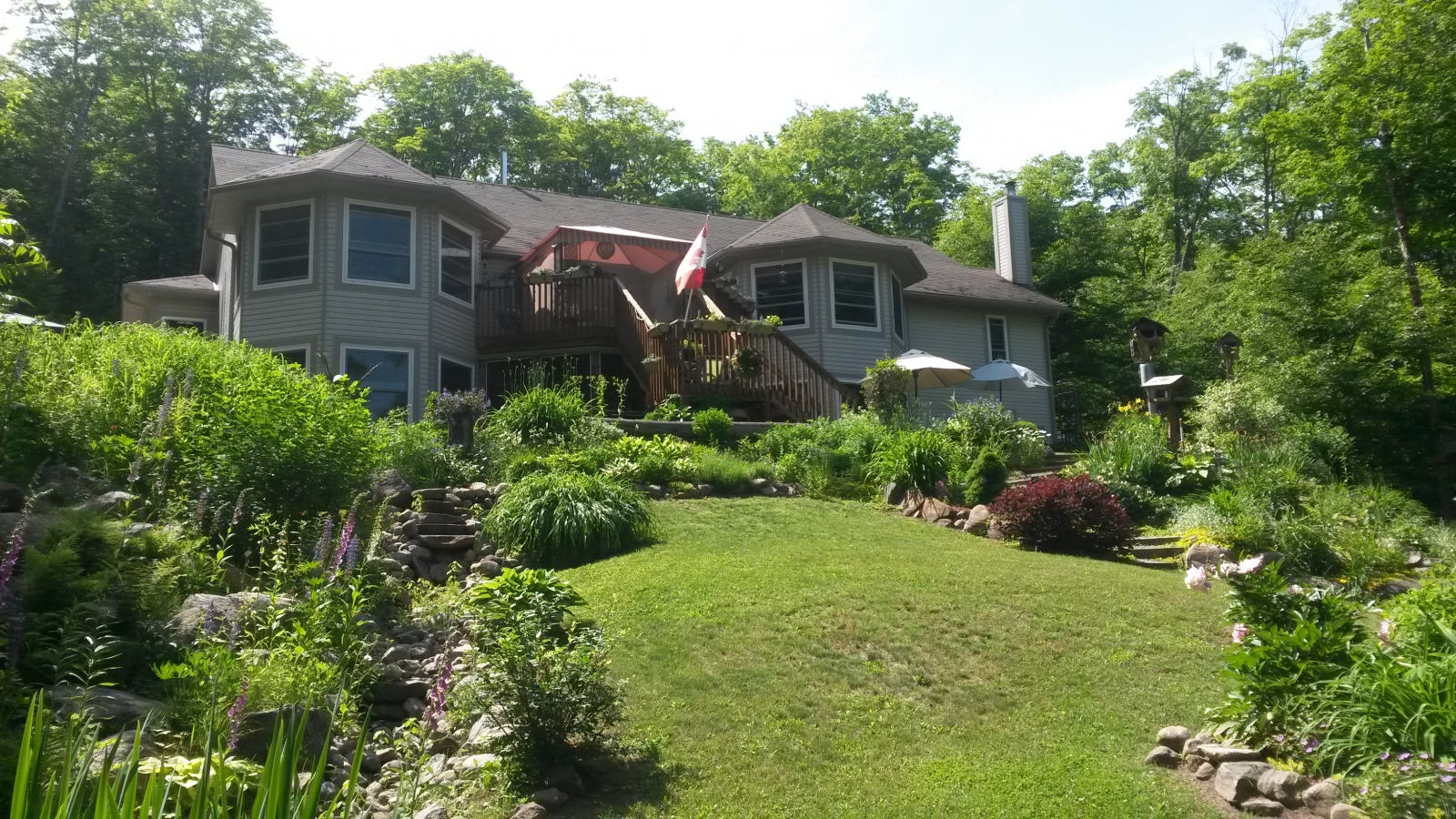 Situated on 18 acres of wooded land with trails leading in and around the Fox Lake area, the home feels more like a tree house in many ways. A split-level property with two towers of bay windows on the lower and upper floors, offer some of the most spectacular seasonal views of the lake you can find. With the kitchen and master bedroom on the top floor, you feel as though you are living among the trees. The home is a modern one, built in 2002, with a large, two car garage. When first looking at the home you may think 2,000 square feet on one level is an exaggeration. But the bulk of the house is best seen from the back, where the two towers are connected by decking, and where you can really see the size of the fully finished lower level as well as how the house works with the gentle, natural slope of the land. Johny and Rachel have had some incredible work and landscaping done on the property to show off its best features, both inside and out.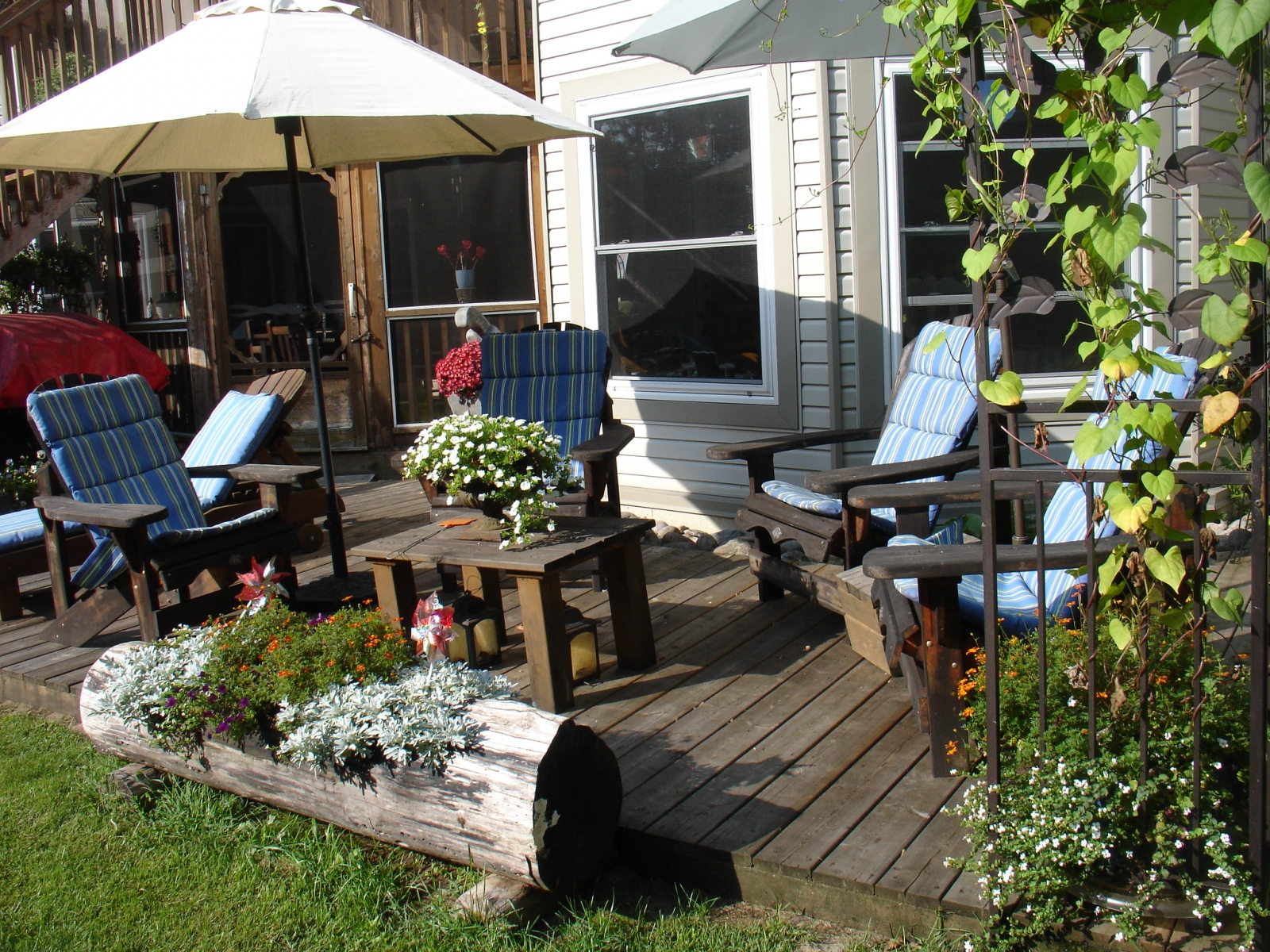 There is not just one deck to enjoy, there are three. One is a classic Muskoka Room, a screened and covered deck to allow for outdoor enjoyment. Rachel had a direct hand in the landscaping which has been done; providing an inviting yard for local wildlife. The flora and fauna are yet another fairytale aspect to this amazing Muskoka country home. They also added a hot tub off one of the decks, providing another charming and relaxing feature to enjoy year-round.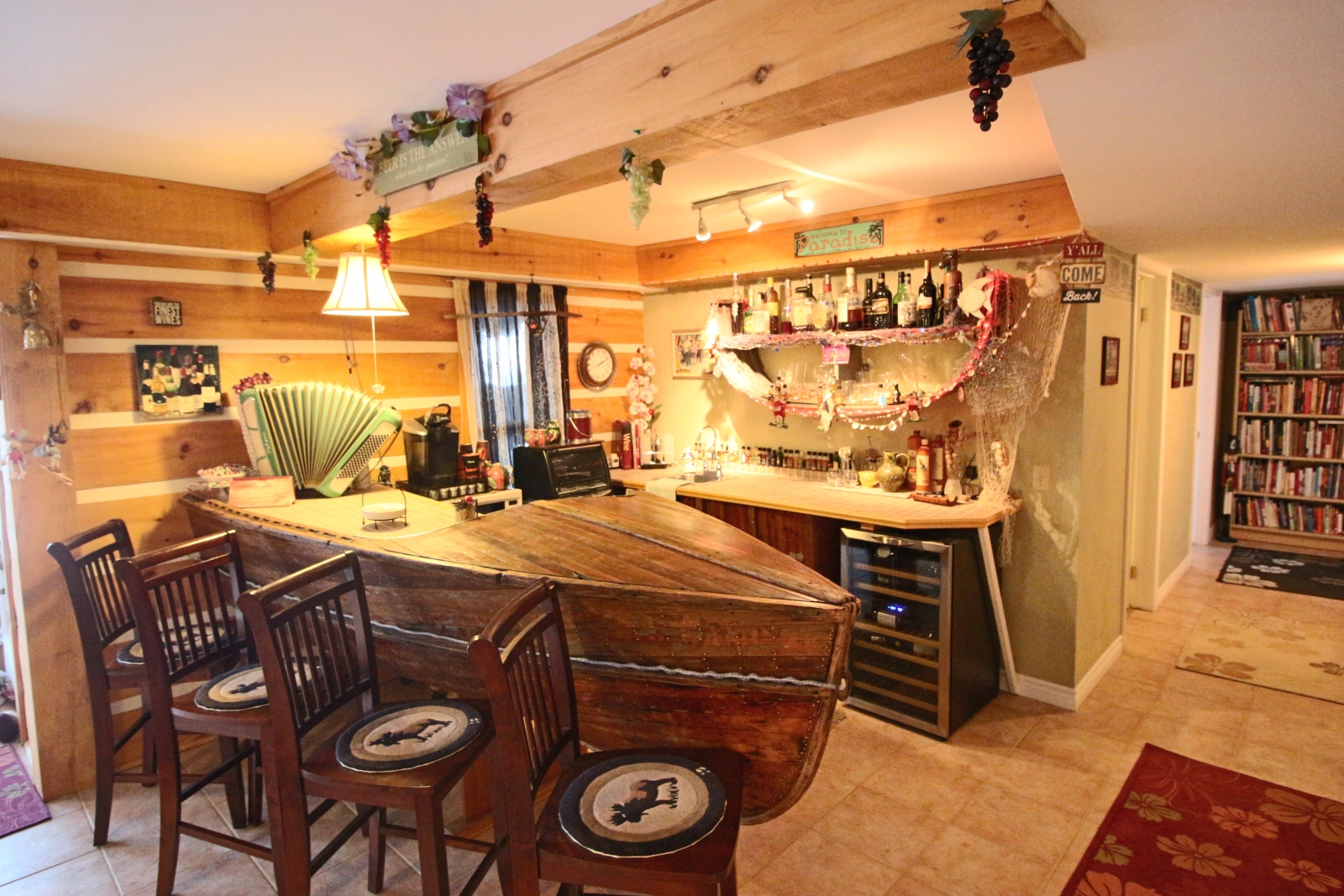 The floor plan is spacious, yet comfortable with the warmth of wood ranging throughout the property. The upper level has hardwood flooring while the lower level features ceramic tiles with wood paneled walls. A fire can be enjoyed on either floor, with a traditional gas fireplace in the main living room on the upper level, and a wood stove set against a rock wall below. In addition to these comforts, there are some unique points of interest in the home as well, including a bar shaped like a boat in the lower level. The rock wall where the wood stove is, also has stone shelves built in to add your own flair for the dramatic or to show off family photos. The master bedroom has its own bay window nook for enjoying the forest views in peace, privacy and quiet.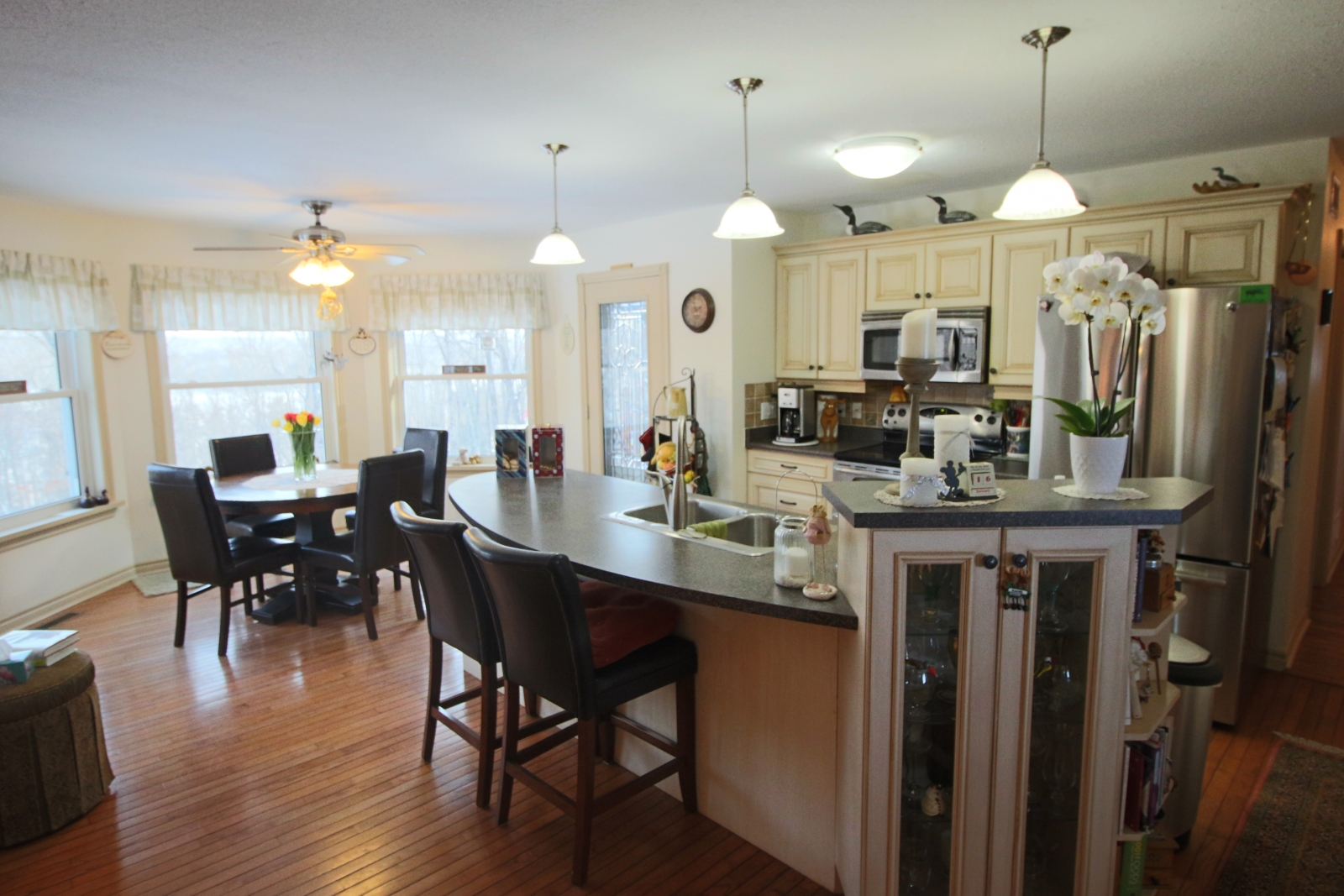 With four bedrooms and three full baths, and living space on both floors including a games area and formal dining room, this property is more like two houses in one. This even allowed for Rachel to establish a Bed & Breakfast on the property for a time. The kitchen has become their favourite room, and the most loved room of guests too. As it is located in one of the towers of the house, the large bay windows make for an ideal place for bird watching. Nature lovers can take in the magnificent beauty of the property any time of year. Its flowing space around a large kitchen island even allows one to dance, which is currently encouraged by a plaque on the wall which reads, "You are never too old to dance in the kitchen". This vivacious approach to life fits in with this home, as anyone will be able to see for themselves upon viewing this special offering.
While it is no longer operating, the B&B gave both Johny and Rachel the chance to get to know people visiting the area, and to share with them what they themselves enjoyed about Fox Lake and Huntsville on a grander scale. Community was definitely one thing which made them have no regrets about leaving Belgium behind. From the beginning, their neighbours extended a welcoming hand to them. They were included in dinner parties and get-togethers right away. So much so, they say they felt as though they had always lived here, this was truly home.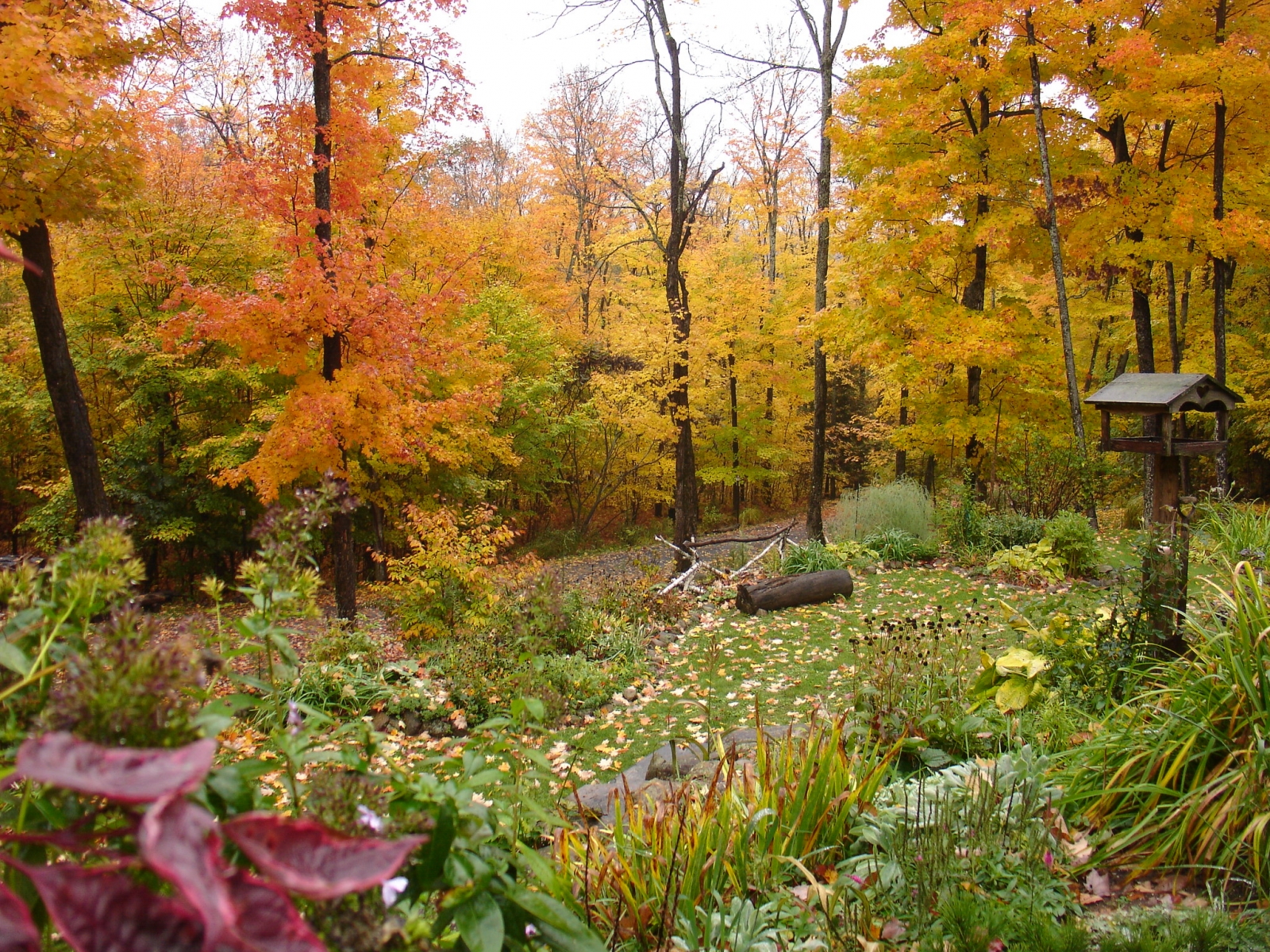 You may wonder, if this is "Heaven on Earth", as Johny puts it, why are they selling? After just about 10 years in this incredible home, their son has since completed school, and Johny and Rachel are ready to embark on their next dream adventure-- traveling. They are ready to downsize and explore the world. With all the love they put into their home, and the love they have received in return from the neighbourhood, they hope whoever buys their property will enjoy the home as much as they have. They are ready to show you the finer points about the house, share its history and all you need to know to make your own Muskoka living dream come true.
If you are in the market for a Muskoka country home, with forest views and the tranquility of the Muskoka region, this one might be just the one for you! Please call us at
705-788-3535
or email us at
info@WearingParrottTeam.com
today!