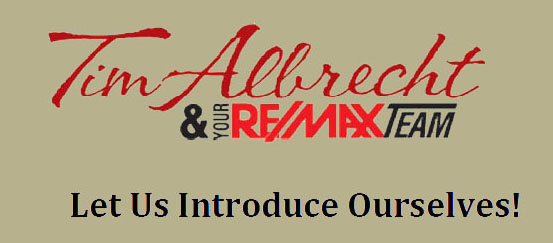 Tim Albrecht - Sales Representative- Tim@YourRemaxTeam.ca


As a life-long resident of Waterloo Region, I contribute in various ways to our community by providing valuable service and extensive experience to the Real Estate Industry. I believe in dedication to client satisfaction. I make it my sole focus to persevere in Real Estate in order to provide my clients with the highest quality of expertise available. By putting yourself in mine and YOUR REMAX TEAM'S hands, you can expect to receive nothing less than honesty, integrity, and exceptional service every time.


Doreen Martin - Sales Representative Doreen@YourRemaxTeam.ca

I've lived in the Region of Waterloo all my life and am involved in the local community.
I've been in Real Estate full time since 1993, constantly updating to be aware current trends in today's market. I pride myself in giving friendly personalized service paying attention to detail every step of the way. I enjoy many things about real estate , especially being a part of a family's dream as they transition from home to home. In my commitment to first class service, I will not be satisfied till you are!
I am pleased to be a part of a Team of Professionals.




Amy Williams - Sales Representative Amy@YourRemaxTeam.ca

I graduated in 2003 from Humber College with a diploma in Multimedia Design. While working in the field as a Photo Technician for a major North American Company and then a Real Estate Photographer/Marketing Specialist, I came to realize my interest in Real Estate Sales. After beginning her Real Estate career in early 2006, Amy thrived on the fast paced lifestyle as a Realtor.
Since joining the Tim Albrecht Team in 2007 as a Buyer Representative, I have enjoyed focusing my time on assisting home buyers, and have successfully helped them find their dream homes. In 2008 I achieved my Accredited Buyer Representative designation through REBAC, one that less than 25 other Realtors have in the Tri-City area. I pride myself on my honesty, ethics, and dedication to my clients, thoroughly helping them every step of the way from start to finish.